Will this course really help me in my grief journey?
Is it worth the cost (of time and money)?
What if I can't do the art part?
I know sometimes it's hard to invest in something without knowing all of it's ins and outs. I can tell you how valuable this course is, but I think it's best to just show you. So that's what this post is all about.
A great journey should always have a goal in mind. Our Project Grief journey has one goal: to help you transition from being a "grief victim" (someone who lets grief happen to them) to becoming a "grief artist" (someone who takes their loss and pain and transforms it into something beautiful).
How do we teach something like this? There are 10 lessons & art projects available for you to complete at your own pace. Each lesson builds on the other, taking you one more step out of the "grief victim mentality", towards the "grief artist's perspective". Here's a bird's eye view of where we're headed: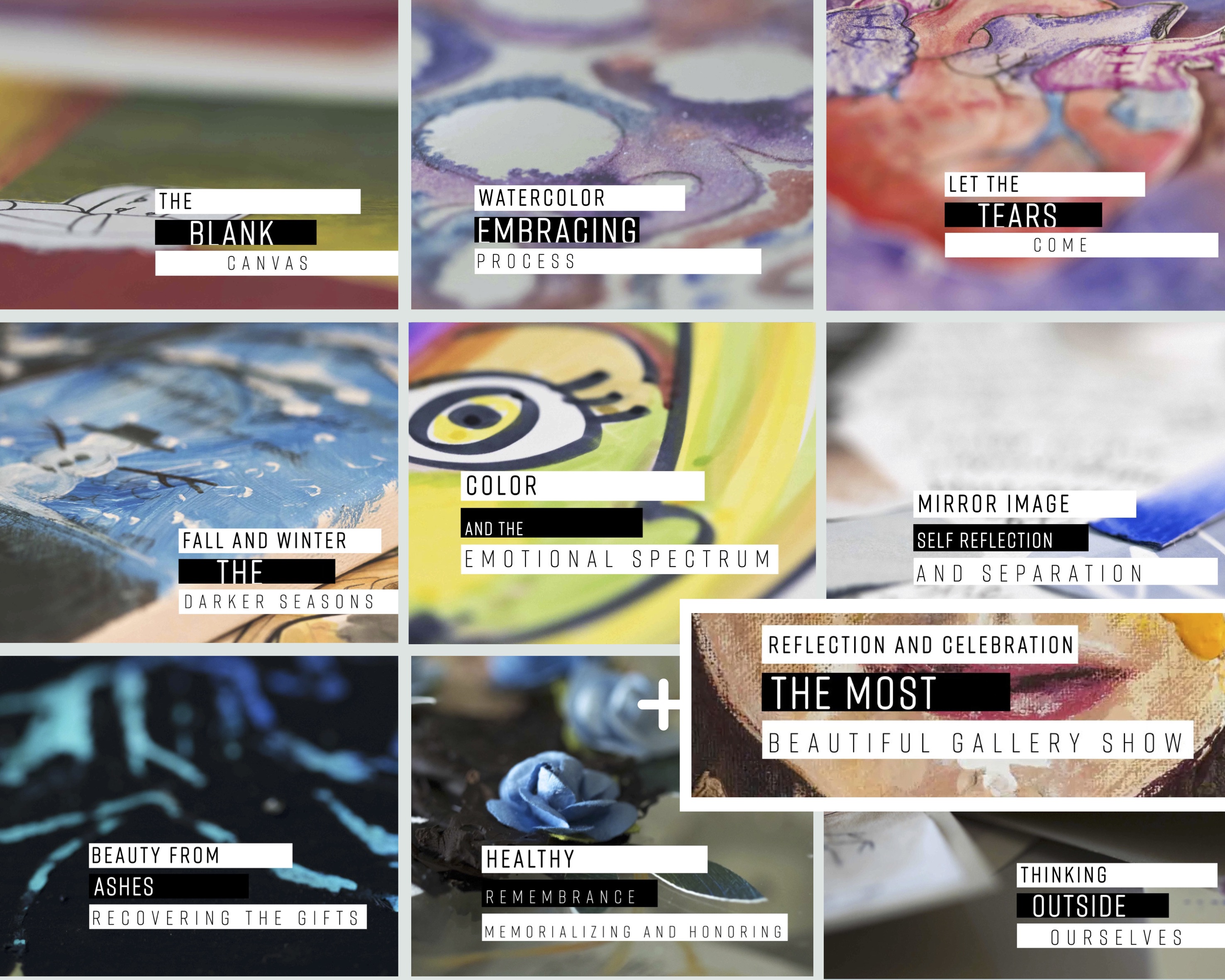 The lesson introduces the mindset change we're working on for the week. It recognizes the grief victim mindset, then gently opens up the idea of a new way of looking at the problem - through the lens of the grief artist.
The art project is what really helps us create change. That's because we might understand things in our heads, but unless we put them into practice, an idea stays just that - an idea. Putting the idea into practice via an art project helps us begin to think about how we can put the idea into practice in our day-to-day life.
Learning about change is great. But using art to put it into practice is better:

Finally, the reflection questions at the end of each lesson help you complete the circuit of learning. These are meant for your personal benefit, and are not required to complete the course. Simply think through them or write them down in a journal. If you have a "lightbulb moment", we encourage you to share it on the private Facebook Group we have available to enrolled students - we're all about encouraging others! Of course, participation and sharing in the group is totally up to you. There's no pressure here.
What kind of art supplies will I be needing?

We wanted to make sure that the art supplies required for the projects are good for art, but not so high quality or special as to get in the way of your grief process. Check out our Amazon list of all the supplies you'll need to complete all ten lessons. We also made sure to include a "shopping list" in PDF form, available to you as soon as you enroll. This shopping list also includes cheaper and easier options if you're limited in time and budget.
What if the course just isn't what I need right now?
Don't worry. If you are unsatisfied with your purchase, contact us in the first 30 days of enrollment and we will give you a full refund.
We also structured the course so that monthly subscriptions allow you to take the time you need to go through the material. If you feel better after just a few months and no longer need Project Grief, that's a win for us! If the 30 days after enrollment has already past, simply log in to your account and conclude your monthly subscription. Contact us if you need any help doing so - we'd be happy to help.
Remember, this course is for you if:
A loved one has passed away
You want a safe space to process your grief
You want to finally "feel better"
You want to acquire skills that will help you face other life challenges, too
You're willing to process your thoughts and emotions, creatively
If that sounds like you, we hope you'll join us this month online as we begin the journey of life-after-loss together. We know you'll love it, and we can't wait to meet you, hear your story, and see the beautiful things you make.
Enroll here today for $20/mo. You choose how long!